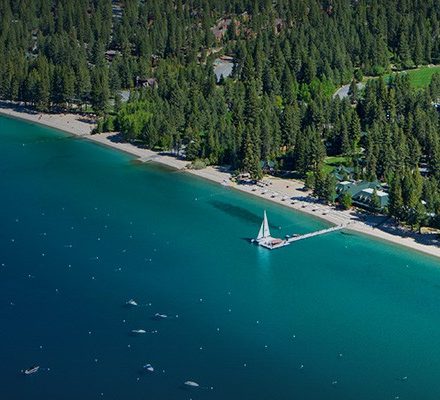 Incline Village and Crystal Bay Visitor's Center
969 Tahoe Blvd
Incline Village, NV 89451
---
Who We Are:
The Incline Village Crystal Bay Visitors Bureau (IVCBVB) is the public organization responsible for destination marketing for the North Shore, Nevada side of Lake Tahoe. Operating primarily from a percentage of lodging room tax collected by the Reno Sparks Convention and Visitors Authority, the IVCBVB conducts advertising, promotions, public relations and special events programs to promote tourism for the Lake Tahoe portion of Washoe County, NV.
We are your gateway to accessing the beautiful Northeast corner of Lake Tahoe! Visit our website HERE
---
Thunderbird Lodge Tours:
Tour the epic Thunderbird Lodge: Docent-guided tours reveal the mystery and legacy of the enigmatic George Whittell Jr., the tycoon who purchased and protected nearly 45,000 acres of Lake Tahoe's east shore. You'll discover the history of the Lighthouse Room, Old Lodge, the servant's quarters with original kitchen, as well as the 600' underground tunnel leading to the cavernous boathouse. You might glimpse the legendary wooden speedboat, Thunderbird, built for Whittell in 1939 and powered by twin Allison engines from vintage WWII fighter aircraft. Walk along the serpentine Dragon's Tail path to the enchanting Card House with its famous poker game stories. All tours offer breathtaking views of Lake Tahoe, the nearby mountain ranges, elegant gardens, lagoons, waterfalls, and fountains. Discover the magic of Thunderbird Lodge—the history, the architecture, and the men and women of Lake Tahoe's gilded age.
---
Tour Information:
Cost: $45 adults , $19 children (ages6-12)
Duration: 90-minute tour of the Lodge, Boathouse, and Grounds
Tours Times: 10:00 a.m. / 11:30 a.m. / 12:00 p.m. / 2:30 p.m.
Dates: 
May 21 thru June 22 – Tuesday, Friday, Saturday only
June 25 thru September 21 – Tuesday thru Saturday
September 24 thru October 19 – Tuesday, Friday, Saturday only
Please check-in 30 minutes before your tour
---
Contact
Contact Information:
Phone: 775-832-1606 or 800-GoTahoe
Fax: 775-832-1605
General Mailbox:  [email protected]
969 Tahoe Blvd.
Incline Village, NV 89451
---